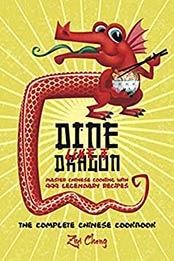 Title: Dine Like a Dragon: The Complete Chinese Cookbook: Master Chinese Cooking with 999 Legendary Recipes (Asian Cookbook Book 1)
Author: Ziyi Cheng
Pages: 698
Publisher (Publication Date): January 22, 2020
Language: English
ISBN-10: B0844M4L3K
Download File Format: EPUB
Chinese food requires no introduction. It is some of the most popular and commonly available food, regardless of where you live. Chinese food is diverse, and tastes absolutely amazing. All you need is fire and a stove to cook most of the recipes, and they don't take much time either. Delicious, easy, and quick- Chinese food is a must-have in the arsenal of any cook.
Dine Like a Dragon: The Complete Chinese Cookbook offers:
All the basic information you will need to get started with Chinese cooking
22 Chinese Marinades and Condiments
36 Chinese appetizer Recipes
40 Chinese Soup Recipes
24 Chinese Sauce Recipes
21 Chinese Dips and Dressings
25 Chinese Salad Recipes
174 Chinese Chicken, Turkey, and Duck Recipes
167 Chinese Seafood Recipes
90 Chinese Beef Recipes
100 Chinese Pork Recipes
28 Chinese Lamb Recipes
25 Chinese Egg Recipes
31 Chinese Rice Recipes
26 Chinese Noodle Recipes
102 Chinese Vegetable Recipes
16 Chinese Tofu Recipes
35 Chinese Dessert, cake, and confectionery Recipes
15 Chinese Teas, Pickles, and Other Preserves