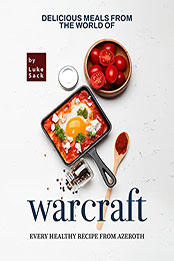 Title: Delicious Meals from the World of Warcraft: Every Healthy Recipe from Azeroth
Author:Luke Sack
Pages: 73
Publisher (Publication Date): August 9, 2021
Language: English
ISBN-10, ISBN-13 or ASIN: B09C7MYRYW
Download File Format:EPUB
To fight with the enemies in our life, we need to have physical and mental strength and energy. This cookbook consists of recipes inspired by the famous game World of Warcraft which are healthy and nutritious.
All the game lovers must have experienced the thrilling World of Warcraft game by Blizzard Entertainment. But food lovers were more focused on the food that has kept few characters from this exciting game, such as Mankrik and Lord Serpentis. The food presented in the game was not all good for humans, but our culinary experts have compiled the best ones for you and have twisted some of those recipes into healthy food items.
We have included the healthy and yummy recipes that we have seen people eating in the Azeroth kingdom. These recipes are from the Hordes, Alliance, and Clance of the game. You will find delicious and healthy recipes such as grizzly energy drinks, special mutton soup, beef wellington, and many others.
Get your copy of this cookbook now, enter the game's thrilling world, and enjoy these filthy recipes. Enjoy these recipes at your home.