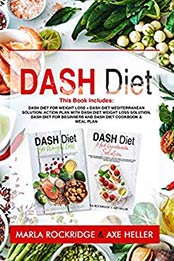 Title: Dash Diet: This Book Includes: Dash Diet for Weight Loss + Dash Diet Mediterranean Solution. Action Plan with Dash Diet Weight loss Solution, Dash Diet … and Dash Diet Cookbook & Meal Plan
Autor: Marla Rockridge, Axe Heller
Pages: 341
Publisher (Publication Date): May 22, 2019
Language: English
ISBN-10:
ASIN: B07S74Q6GW
Download File Format: EPUB
Finally a No-Diet Diet…The Mediterranean Diet!
2 Manuscript in 1 Book
Discover the DASH Diet
This Boxset Includes:
DASH Diet for Weight Loss
DASH Diet Mediterranean Solution
It is not easy starting a diet.
Do you want to decrease the risk of cancer?
Do you want to lower your cholesterol?
Do you want to decrease the risk of diabetes?
Do you want to decrease the risk of osteoporosis?
Do you need help to lose the extra weight?
What if you could combine them into a single diet that allowed you to eat tastier foods, lose weight and have better health?
Now you can! Welcome to the DASH Diet!
The DASH diet was originally designed to fight high blood pressure without medication. It relies on limiting salt intake, but in some ways is a Spartan diet.
If this is your first adventure with the DASH Diet Plan, you will discover owning your own copy of the DASH Diet will be a valuable addition to your digital collection.
This guide will be what you have been seeking to understand and follow the plan without needing it all left to your memory.
You will discover all of the reasons you should purchase this enlightening book when you discover how the DASH diet plan ranked for 2018 in second place. Its overall score was 4.1 out of 5, 4.8 out of 5 for the healthiest diet plan, and 3.1 out of 5 for weight loss. There are over 175 recipes to choose from!
You will discover how easy it can be to follow the step-by-step information provided for each of the tasty recipes. Here are a few just to get your attention:
Apple-Swiss Panini
Apples with Almonds & Figs
Sausage – Potato & Mushroom Strata
Ambrosia with Coconut & Toasted Almonds
Sesame-Crusted Baked Chicken Tenders
Asian Veggie Salad
Sardine Egg Salad
Baby Beet & Orange Salad
Roasted Pepper Roll-Ups
Sparkling Stars
Seven secret supercharged health benefits of combining the DASH and Mediterranean Diets.
Learn how to manage diabetes with the DASH Diet Mediterranean solution.
Jumpstart your health now with a 14 day meal plan that will help you dive into the Dash Diet Mediterranean solution with ease.
Enjoy a varied diet with beef and pork, poultry and seafood recipes.
Top it all off with healthy Mediterranean style desserts.
So much more!
The meals are limitless, and you will soon discover what you have been missing out of life. You know this will be a great addition to your cookbook resources.
It will surely be frequently used as you plan your daily meal routine. Eventually, you will be creating your recipes for you and your family.
In contrast, the Mediterranean diet is one rich in the use of oils and healthy fats that encourages liberal consumption of fish and nuts.
For decades, experts have recognized that the Mediterranean diet significantly reduces the risk of heart disease.
Now we've taken the best of the DASH diet and combined them together into one new tasty and varied diet that is easy to follow and helps people reduce the risks of blood pressure AND heart disease, while enjoying the flavorful tastes and aroma's of the Mediterranean region.