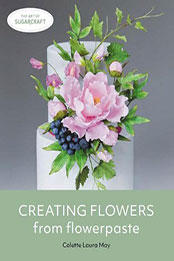 Title: Creating Flowers from Flowerpaste (The Art of Sugarcraft)
Author: Colette Laura May
Pages: 208
Publisher (Publication Date): The Crowood Press Ltd (23 May 2022)
Language: English
ISBN-10, ISBN-13 or ASIN: 0719840457
Download File Format:EPUB
Flowers are a classically timeless way to decorate a cake for a special occasion. With flowerpaste there is no limit to the range of flowers, foliage or berries that can be created – both real and fantasy. All that is required are the right materials, equipment and technique. In Creating flowers from flowerpaste, Colette Laura May guides the reader through step-by-step tutorials to create stunning floral displays to adorn cakes for all occasions. With over 860 images, this book describes the equipment and materials required and demonstrates the essential techniques required to get started. It includes thirty-eight step-by-step tutorials for the creation of all aspects of floral displays: flowers, buds, leaves, foliage, berries and seedpods. Finally, there is guidance on the creation of fantasy butterflies to enhance floral displays and instruction on the construction of seventeen specific sprays and arrangements. Includes templates and a useful list of suppliers.