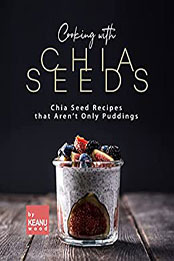 Title: Cooking with Chia Seeds: Chia Seed Recipes that Aren't Only Puddings
Author: Keanu Wood
Pages: 69
Publisher (Publication Date):December 9, 2021
Language: English
ISBN-10, ISBN-13 or ASIN: B09NDG8599
Download File Format:EPUB
Do you know that chia seeds belong to the mint family? Ancient tribes like the Mayans and Aztecs used them as an endurance food on long hunting journeys and expeditions. In fact, chia seeds were once used as legal tender, and today, they are super seeds to curb hunger, stay satisfied, and add volume to food.
Chia seeds can be used as a seed, sprouted for salads, ground into meals, for baking in non-gluten cooking, and many more. The versatile ingredient pushes the creative envelope, and we have 30 recipes to make you an expert in cooking with chia seeds.