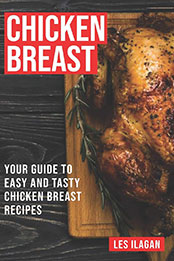 Title: Chicken Breast: Your Guide To Easy And Tasty Chicken Breast Recipes
Author: Les Ilagan
Pages: 115
Publisher (Publication Date):CreateSpace Independent Publishing Platform (September 3, 2015)
Language: English
ISBN-10, ISBN-13 or ASIN: 1517235731
Download File Format:EPUB
Learn How to Cook Succulent and Tender Chicken Breast Dishes
You can now easily prepare and cook your favorite chicken dishes in the comforts of your own home.
This recipe book is beginner-friendly and will help you discover the numerous ways to cook juicy and tender chicken breast by baking, roasting, grilling, and stir-frying.
It has a wide selection of chicken recipes to suit everyone's taste. Included here are Mediterranean, Middle Eastern, American, and Asian inspired dishes that you will surely love!
Here are some of the featured Chicken Breast Recipes:
Chicken Stuffed with Blue Cheese Spinach and Pecan
Baked Chicken with Honey Mustard and Garlic
Cajun Spiced Grilled Chicken Breast
Chicken Biryani
Chicken with Spicy Peanut Sauce
Chicken Donburi
Szechuan Chicken with Veggies
Chicken Barbecue with Garlic and Rosemary
Hawaiian Chicken Kebabs
Chicken and Vegetable Soup
Chicken Apple and Watercress Salad
Moroccan Spiced Chicken Sandwich
Chicken Mediterranean Wrap with Herbed Yogurt Dressing