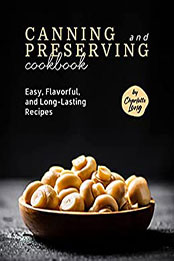 Title:Canning and Preserving Cookbook: Easy, Flavorful, and Long-Lasting Recipes
Author: Charlotte Long
Pages: 140
Publisher (Publication Date): April 10, 2022
Language: English
ISBN-10, ISBN-13 or ASIN:B09XMKXPGC
Download File Format:EPUB
Are you always out and about and don't really have time to cook every now and then? Are you looking for a solution to keep food lasting for a long time? Then this is the cookbook for you!
We've compiled a collection of 50 canning and preserving recipes that you will surely enjoy! These recipes are also great for special occasions or a quick and easy meal!
This cookbook is for you if you want to learn how to preserve food and make meals that only require reheating.
So, what are you waiting for? Get this cookbook now and join us in preparing these delectable dishes!