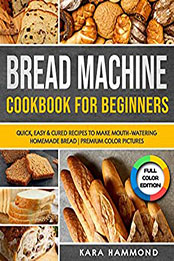 Title: Bread Machine Cookbook for Beginners: Quick, Easy & Cured Recipes to Make Mouth-Watering Homemade Bread | Premium Color Pictures
Author: Kara Hammond
Pages: 55
Publisher (Publication Date): December 19, 2021
Language: English
ISBN-10, ISBN-13 or ASIN: B09NWDBSD7
Download File Format:EPUB
★ EVERY RECIPE ILLUSTRATED WITH PREMIUM COLORED IMAGES ★
Finally, Put Your Bread Machine to Use and Maximize Its Full Potential! – Find Easy, Affordable, Delicious, and Beginner-Friendly Bread Maker Recipes to Wow Your Family!
Would you like to get into baking but don't want your electricity bill to skyrocket?
Or, maybe you've recently gotten a Bread Maker but aren't quite sure how to use it?
Are you tired of making the same old bread recipes over and over?
Well, look no further because this is the book for you!
Bread-making can be a time-consuming and expensive hobby. Without the proper guidance, you can make so many mistakes which will just equal throwing a bunch of failed dough in the bin. There goes your time and money!
Minimize room for error and get into bread-making the right way with premium colored images! Put your bread machine to use with this book that will guide you on how to use it, which is the best machine for you, and provide you with tons of delicious bread recipes for any occasion!
In this book, you'll discover:
A visual and hands-on learning experience: With stunning colored pictures and a step-by-step guide for every recipe! Be guided every step of the way and silence any doubts in your head.
Tons of recipes: From sweet to savory bread recipes, you'll find a recipe to satisfy your cravings. Find recipes that will wow everyone in the family, even the kids!
Expert tips and tricks: Get exclusive tips and tricks for baking and storing your bread! Make your loaves last and stay fresh for longer so you can enjoy them for multiple days.
Premium colored pictures: for each recipe.
…and much more!
Have all your bread machine-related answers solved and begin using your bread machine to its fullest potential!