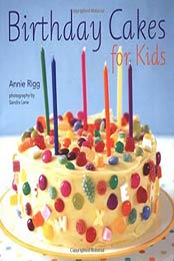 Birthday Cakes for Kids by Annie Rigg
Print Length: 128 Pages
Publisher: Ryland Peters & Small
Publication Date: March 1, 2012
Language: English
ISBN-10: 1849752206
ISBN-13: 978-1849752206
File Format: EPUB
At last, here's a beautiful book full of fuss-free and imaginative cakes to make for children of all ages. Annie Rigg shows you how to make various cake mixes in different quantities, as well as frostings and decorations for fabulous but effortless cakes. She then takes you through some Simple cakes such as Princess Cupcakes, a Meringue Mountain, and a just Fantastic Chocolate Cake to end all chocolate cakes! Chapters on Animals, Transport, Fantasy, and Wildlife offer all sorts of cake ideas for novice and confident bakers alike. From a Fluffy Sheep covered in marshmallows to a Pirate's Treasure Chest, and a Ladybird to a Hot Air Balloon, there's something here for every occasion, whether you're short of time or you are prepared to spend the afternoon in the kitchen baking, frosting, and decorating. Both girls and boys will be thrilled with the imaginative creations in this book, and making your own cake means that you aren't feeding young children a shopbought variety full of artificial flavours and preservatives.