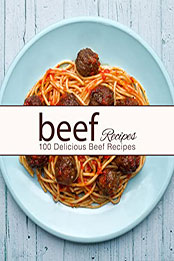 Title: Beef Recipes: 100 Delicious Beef Recipes (2nd Edition)
Author: BookSumo Press
Pages:
Publisher (Publication Date): BookSumo Press; 2nd edition (June 30, 2022)
Language: English
ISBN-10, ISBN-13 or ASIN:B0B5LJHBBH
Download File Format:EPUB
Eat More Beef…
Get your copy of the best and most unique Beef recipes from BookSumo Press!
Come take a journey with us into the delights of easy cooking. The point of this cookbook and all our cookbooks is to exemplify the effortless nature of cooking simply. In this book we focus on Beef.
The Beef Recipes is a complete set of simple but very unique Beef recipes. You will find that even though the recipes are simple, the tastes are quite amazing. So will you join us in an adventure of simple cooking?
Here is a Preview of the Beef Recipes You Will Learn:
Autumn After-School Chili Beef
Texas Style Chili Beef
Cannellini and Cheddar Chili Beef
Alaska Log Cabin Inspired Chili Beef
Garlicky Beef and Pasta Stew Beef
Cheesy Smoke Stuffed Peppers Beef
Classic Spaghetti and Meatballs Beef
Steak Crackers Meatloaf Beef
Condensed Beef Burger Soup Beef
3-Ingredient Roasted Beef Beef
Minty Roast With Butter Gravy Beef
Kosher Eye Roast Beef
Spanish Rump Roast Barbecue Beef
Soy Sauce Slow Cooker Roast Beef
Chayote's Bones Soup Beef
Rack of Ribs Beef1 Beef
Canadian Meatloaf with BBQ Sauce Beef
Amish Friendship Meatloaf Beef
Grace's Carrot and Celery Glazed Meatloaf Beef
Meatloaf Manitoba Beef
Much, much more!
Again remember these recipes are unique so be ready to try some new things. Also remember that the style of cooking used in this cookbook is effortless. So even though the recipes will be unique and great tasting, creating them will take minimal effort!