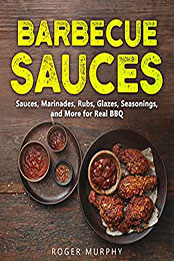 Title:Barbecue Sauces: Mastering Sauces, Marinades, Rubs, Glazes, Seasonings, and More for Real BBQ
Author: Roger Murphy
Pages: 127
Publisher (Publication Date): May 2, 2022
Language: English
ISBN-10, ISBN-13 or ASIN: B09ZHLCJS2
Download File Format:EPUB
Barbecue Sauces, Marinades, Rubs, Glazes, Seasonings, and More for Real BBQ: By Roger Murphy
The ultimate cookbook for making bbq sauces, dry and wet rubs, seasonings, glazes, marinades, bastes, butter sauces, cures, and more. It is important to plan for the sauces as it is for the meats. A good sauce can create a complex caramelization and flavor, while a bad sauce can ruin your Barbeque meals. Luckily, making good sauces and dips is not difficult at all. With simple few ingredients, mixed up together, you can create varying flavors that are enjoyed by every kind of taste buds.
Here are some recipes that you can find in the book:
ROASTED GARLIC PEPPERCORN SAUCE
MINT JELLY GLAZE FOR ROAST LAMB
GREEK YOGURT MARINADE FOR CHICKEN
HONEY SOY BASTE FOR PORK CHOPS
BRINE FOR SMOKED SALMON
The book includes a BBQ recipes chapter too!
A unique cookbook will help you keep the culinary tradition of making bbq and smoking alive and will remind you that sauces are a very important element in cooking!