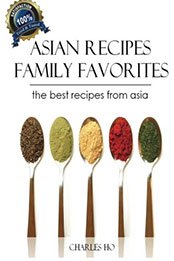 Title:Asian Recipes – 50 Tasty & Easy Made Unique Exotic Recipes
Author:Charles Ho
Pages: 138
Publisher (Publication Date):CreateSpace Independent Publishing Platform (September 25, 2012)
Language: English
ISBN-10, ISBN-13 or ASIN: 1479195324
Download File Format:EPUB
Asian food is a multi-faceted and diverse as European food. While neighboring countries share some common ingredients and cooking styles, Asian countries have developed cuisines that are uniquely their own. Sampling the food of each is truly an adventure. Each country has its own food history much influenced by its culture, religion and past. Vietnamese food for example, retains the flavors of centuries of French occupation. The food in Philippines has the taste of Spanish and American accents while in Malaysia and Indonesia which are Muslim countries, pork meals are almost completely eliminated off the menu. Many of these recipes were guarded as important family secrets and carefully passed down from one generation to another. Asian cooking has enormous potential in modern times, as Asian food chains are springing up all over the world very rapidly, whilst enjoying immense popularity. In this appetizing book, you will find an inspiration not only for your daily dishes, but for almost every occasion which calls for something savory – Asian style/dish/cuisine. All the recipes included in this book are considered classics, and have proven so popular over the past years. Every single recipe has been tested time and again, both by me and by hundreds of my cooking students. The recipes have been divided by Asian regions. Each chapter contains top recipes which will help you find exactly what you are looking for. They are all authentic and thoroughly tried and tested. By following simple, clear and straightforward instructions, you will find a recipe that will suit your needs and wants to the littlest details. Most of the recipes use basic cooking techniques which can be prepared with only a few pots and utensils. This recipe book will help you cook Asian food with confidence and pleasure that you thought you could not make in your own kitchen. More importantly, it will provide you with all the answers to the problem of "What shall we have for breakfast, lunch or dinner?" and you will discover that Asian cooking is so rewarding and fun. So, this book contains ''The Best Traditional Asian Recipes'' for you to make and enjoy at home. You will discover that Asian cooking is so rewarding and fun and also there are 50 mouth-watering recipes accompanied with dish images for you to savor from 10 different countries.