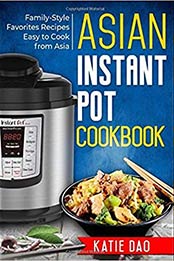 Title: Asian Instant Pot Cookbook: Family-Style Favorites Recipes Easy to Cook from Asia
Autor: Katie Dao
Pages: 80
Publisher (Publication Date):Independently published (June 24, 2019)
Language: English
ISBN-10: 1075832594
Download File Format: AZW3
This book will show you the secrets to making your favorite Asian dishes that taste better than takeout. Written with home cooks in mind, this book includes recipes that are straightforward, simple to follow and work every time. This Asian cookbook includes Authentic Asian recipes that you can make at home. With stunning photography and clear instructions, this is an essential cookbook for everyone, beginner and connoisseur alike. This complete Asian cookbook covers both classic and contemporary dishes. The author helps readers find that perfect dish for any occasion. This book includes easy meals, fun and festive weekend options. Take a delicious and fragrant tour of Asian within the comfort of your own home and kitchen with the recipes in the Asian cookbook. Each recipe is simple to prepare, and the ingredients are convenient to find. Sharp color photographs show you exactly what the dishes look like!These Asian instant pot recipes will give you the chance to impress your friends and family. Your friends and lovers will marvel as you show off your culinary worldliness. You will never have a reason to order take-out again. Along with step-by-step instructions and minimal prep, all the recipes call for strict instant pot cooking, allowing busy moms and professionals to ditch the take out and enjoy fresh homemade Asian dishes any night of the week. Start cooking tonight and dine abroad in the Asian country of your choice. This complete Asian cookbook is a book that belongs in the kitchen of every household. Pick up this cookbook today and get ready to make some interesting and great tasting Asian dishes!