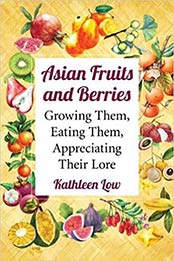 Title: Asian Fruits and Berries: Growing Them, Eating Them, Appreciating Their Lore
Author: Kathleen Low
Pages: 242
Publisher (Publication Date): McFarland (October 31, 2019)
Language: English
ISBN-10, ISBN-13 or ASIN:1476675953
Download File Format:EPUB
? From loquat to breadfruit to persimmon, Asian fruits and berries offer a dizzying selection of tastes, techniques and associated lore. This guide provides descriptions, histories, growing techniques and additional information about Asia's resplendent selection of fruits and berries, with a full color photograph accompanying each entry. Their rich history and cultural lore is presented in this practical guide to identifying, eating and growing the berries and fruits of the Asian continent.