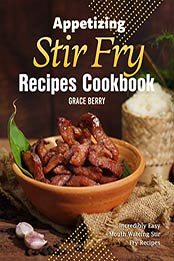 Title: Appetizing Stir Fry Recipes Cookbook: Incredibly Easy Mouth Watering Stir Fry Recipes
Autor: Grace Berry
Pages: 72
Publisher (Publication Date): April 18, 2020
Language: English
ASIN: B0879JCG8Y
Download File Format: EPUB
Fresh, Fast, tastier than take-out!
Stir-frying is healthy, delicious, and very easy to prepare at home. Appetizing Stir-Fry Cookbook is packed with recipes guaranteed to have dinner prepared and served in minutes.
This Appetizing Stir Fry Recipes Cookbook features 30 delicious recipes that require a small amount of ingredients and a short time to prepare, including:
• Traditional Stir-Fried Chicken
• Classic Beef Stir Fry
• Sesame Style Stir Fried Shrimp
• Cauliflower Style Fried Rice
• Easy Stir-Fried Tofu and Mixed Veggies
• Plus more!
You'll learn the master techniques that can work with what is already available to you. This updated cookbook also offers great advice on choosing the best ingredients and equipment, and helpful tips on stir fry techniques. This book has everything needed to become a stir-fry expert, from nutritious, meatless options, and exciting international twists to your special takeout favorites!