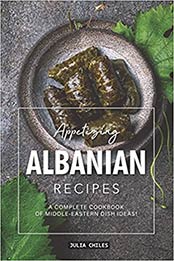 Title: Appetizing Albanian Recipes: A Complete Cookbook of Middle-Eastern Dish Ideas!
Author: Julia Chiles
Pages: 102
Publisher (Publication Date): Independently published (April 18, 2019)
Language: English
ISBN-10: 1095159143
Download File Format: EPUB
Have you ever wanted to learn more about Mediterranean cuisine?
Albanian dishes represent some of the tastiest in the region, and the recipes in this cookbook bring them to your home.
The cuisine of Albania, like that of many Balkan and Mediterranean countries, is much influenced by the country's history. The area known now as Albania has been occupied or claimed through the years by Ottoman Turks, Italy, Serbia and Greece, and all these groups left their marks on Albanian cuisine.
Albanians care a great deal about their midday meal, which is the main meal of the day. It usually features a fresh vegetable salad, along with the main dish of meat and vegetables.
In the coastal areas of Albania, seafood specialties are quite common. In the areas that are higher in elevation, many people eat pickled preserves and smoked meats, since many of the other foods are not easily found in those regions.
Albanian desserts are popular in many Balkan countries, and also trace their roots to Greece and Turkey. They incorporate lemons and oranges among the favorite flavors.
Turn the page and start making Albanian meals for yourself!