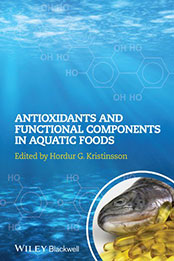 Title: Antioxidants and Functional Components in Aquatic Foods 1st Edition
Author: Hordur G. Kristinsson
Pages: 344
Publisher (Publication Date): Wiley-Blackwell; 1st edition (June 3, 2014)
Language: English
ISBN-10, ISBN-13 or ASIN: 0813813670
Download File Format:PDF
Antioxidants and Functional Components in Aquatic Foods compiles for the first time the past and present research done on pro and antioxidants in aquatic animals. The book addresses an area of extreme importance for aquatic foods, since lipid oxidation leads to such a large number of quality problems. Many of these problems are also seen in other muscle based foods, but are exaggerated in aquatic foods, so the book's contents will be of great use and interest to other fields. Written by top researchers in the field, the book offers not only general overviews of lipid oxidation in aquatic foods and aquatic food pro and antioxidant systems, but also covers specifics and gives the latest information on the key pro and anti-oxidants derived from aquatic foods as well as some of the most recent and innovative means to control lipid oxidations in aquatic foods and food systems with fish oils. Coverage includes the latest research on the effects aquatic foods have on oxidative stress in the human body, an area of great interest recently. Additionally, a chapter is devoted to the latest techniques to measure antioxidative potential of aquatic foods, an area still in development and one very important to the antioxidant research community.
Antioxidants and Functional Components in Aquatic Foods will be of great interest to the food science, medical, biochemical and pharmaceutical fields for professionals who deal with aquatic food products, muscle foods products (beef, pork, poultry etc), lipid oxidation, and pro-oxidant and antioxidant systems.