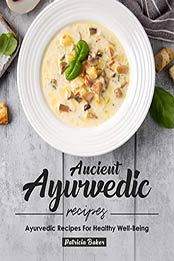 Title: Ancient Ayurvedic Recipes: Ayurvedic Recipes for Healthy Well-Being
Author: Patricia Baker
Pages:
Publisher (Publication Date): January 11, 2021
Language: English
ISBN-10, ISBN-13 or ASIN: B08SPXJS95
Download File Format:EPUB
Whether you are an artist, business tycoon, or full-time employee, no matter how busy you are, your life depends on healthy eating habits. Ayurveda has one belief that lets the food be your medicine.
Also, it is the oldest method of Hindu culture & a traditional approach which is 5000 years old. Ayurveda connects us to five major elements of nature that help us achieve physical and mental balance in our life. Our body is made of fire, space, air, water & earth. Maintaining balance is our key to living life.
Today, so many herbal schools & universities teach herbal medicine, massage, surgery, obstetrics, and astronomy to improve aspects of life. There are a handful of 30 ancient Ayurvedic recipes that will help you find the balance of life & also give you nourishment.
The recipes like carrot pudding, cauliflower green curry, date & nut energy balls, and multi lentil dosa are some of the high nutrient and Ayurvedic based recipes. I have also included beverages like Agni tea, Vata Tea, turmeric milk, and ginger milk to include in your healthy drink list.
Most of the recipes are Indian traditional recipes and have Vedic ingredients. The right kind of food gives us long life and long-lasting youthfulness. Having the right food in your life will help you boost your mood to the next level.
Ayurveda focuses more on healing, health care, and nutrition. Ayurvedic cooking is also very easy, but one needs to keep dietary need based on one's lifestyle and body type.
Happy Ayurvedic cooking with this special edition cookbook for healthy days!