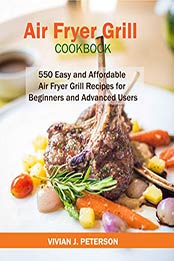 Title: Air Fryer Grill Cookbook: 550 Easy and Affordable Air Fryer Grill Recipes for Beginners and Advanced Users
Author: Vivian J. Peterson
Pages: 533
Publisher (Publication Date): October 13, 2020
Language: English
ASIN: B08L66BHHK
Download File Format:EPUB
The air fryer is an oven/deep fryer combination that prepares meals using circulated hot air rather
than oil. There's a heater located just above the cooking chamber that radiates heat energy from a
close range, directly onto the food. A large fan, situated just above this heater, circulates this
energy, ensuring that it gets pushed down and onto the food. Although this may sound just like
an oven, the design of the air fryer is what separates it.
Below the food chamber is an empty base that houses a starfish like air guide. As the air flows
down through the food, it enters this open chamber, spreading out and distributing the heat
energy evenly around the base of the food. The fan, constantly in motion, then pulls this heat
back up and over the food. In doing this, it ensures that the air is constantly flowing through and
around the food heating and cooking the food evenly.
The combination of heat coming from the heater at the top, flowing through the bottom and then
being pulled back up again creates a heat transfer rate that is much higher than a typical oven.
This means that you can cook food faster and more efficiently then you ever could in an oven.
An air fryer utilizes the convection mechanism in cooking food. It circulates hot air through the
use of a mechanical fan to cook the ingredients inside the fryer. The process eliminates the use of
too much oil in the traditional way of frying.
This Cookbook contains the following categories:
? Breakfast
? Poultry
? Meat
? Fish and Seafood
? Snacks and Appetizer
? BBQ Riblets
? Buffalo Chicken Legs
and many more….