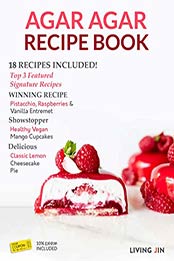 Title: Agar Agar Cookbook2: Recipes Published by Official Agar Agar Company, LIVING JIN, and Customers (Agar Awards)
Autor: LIVING JIN
Pages: 172
Publisher (Publication Date): LIVING JIN (January 14, 2020)
Language: English
ASIN: B083W7C4MZ
Download File Format: MOBI
The 2nd edition of Agar Agar Cookbook is now published, with much more recipes!
What is Agar Agar?
Gelatin Substitute; Unflavored, Vegan, Vegetarian, Keto, Gluten-free, Non-GMO, Kosher, Halal
LIVING JIN's Agar Agar?
High Quality, 100% natural vegetable-based gelatin/ thickener without any animal sources. 700 strength/ cm². Rich in dietary fiber, calcium, magnesium and minerals, with only 3 calories per 1 gram.
[Usage] Homemade Gummy bears, Cheese, Desserts, thickener, jelly, yogurt, jello shot, raindrop cake, pearl, pies, ice cream, mousses, panna cotta and more.
Usually only 1 tsp of powder is needed for the 1 cup of water/ juice. (A little goes a long way!)
Who Will Need This Book?
– Agar Agar beginner who is looking for recipes
– Agar Agar master who wants to make something creative
– If you want to make a healthy, clean and nutrient-rich foods
– If you want to try using some substitution of gelatin
– If you want to hear real tips and stories of customers
*The recipes in this cookbook were submitted by LIVING JIN's customer chefs for the first Agar Agar recipe contest: Agar Awards. From this book, you will see 9 amazing recipes & real tips that you can use when cooking with Agar Agar Powder. (Vegan recipes included)