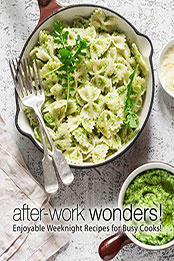 Title: After-Work Wonders!: Enjoyable Weeknight Recipes for Busy Cooks!
Author: BookSumo Press
Pages: 106
Publisher (Publication Date): BookSumo Press (June 6, 2022)
Language: English
ISBN-10, ISBN-13 or ASIN: B0B3DQJ8DV
Download File Format:EPUB
After Work Recipes.
Get your copy of the best and most unique After Work recipes from BookSumo Press!
Come take a journey with us into the delights of easy cooking.
The point of this cookbook and all our cookbooks is to exemplify the effortless nature of cooking simply. In this book we focus on After Work. The After-Work Wonders! is a complete set of simple but very unique After Work recipes. You will find that even though the recipes are simple, the tastes are quite amazing.
So will you join us in an adventure of simple cooking?
Here is a Preview of the After Work Recipes You Will Learn:
Garbanzo Bows Pasta
Fresh Lemon Pasta Salad
Mashed Tortellini Jarred Salad
Herbed Feta and Roasted Turkey Salad
Nutty Tuna and Pasta Salad
Tomato Parmesan Spinach Pasta
Risotto Mexicana
Vegan Dessert Risotto
Alleghany Mushroom Risotto
Arizona Yellow Risotto
Hot Couscous Risotto
Summer Celery Risotto
Adaku's Yam Fries
Garden Turkey Pesto Wraps
Picante Bean Wraps
Mediterranean Cheese Wraps
Japanese Spring Roll Wraps
Dijon Genoa Wraps
Steaks Gravy with Dumplings
Quick Dumplings
Italian Herbs Dumplings
Croutons Dumplings
Couscous Ghardaïa
Ground Chicken Borek
How to Make Haricot Beans
African Chicken Drumsticks Soup
Much, much more!
Again remember these recipes are unique so be ready to try some new things. Also remember that the style of cooking used in this cookbook is effortless. So even though the recipes will be unique and great tasting, creating them will take minimal effort!