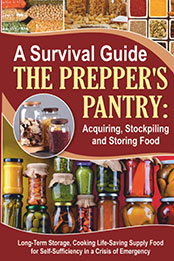 Title: A Survival Guide. The Prepper's Pantry: Acquiring, Stockpiling and Storing Food: Long-Term Storage, and Cooking Life-Saving Supply Food for … (Cooking Recipes) (Self-Sufficient Living)
Author: Collin Bradford
Pages: 159
Publisher (Publication Date): Independently published (April 11, 2022)
Language: English
ISBN-10, ISBN-13 or ASIN: B09XB7RRD7
Download File Format:EPUB
Does food stockpiling seem too much work for you? Do you struggle with the planning and budgeting of it all? Is it really worth the time and effort?
Well, yes, it really is!
Having doubts or second thoughts about food stockpiling is normal in this age of mass production, where things are just one click away. But, in a crisis situation, it is still important to ensure food safety for you and your family. You can stock up your pantry for a few days, months or even for a year, depending on your needs. With this Survival Guide, you can learn not only about the importance of acquiring and stocking food, but also about the different ways of preserving and storing all sorts of food items.
This comprehensive handbook is going to help you prepare to survive on the stocked food in your home in case of any emergency, disaster, power outages, or living off the grid. With budget-friendly tips and suggestions, you can learn the art of smart buying without making stockpiling a burden on your budget.
Here is what you will learn from this cookbook:
Why do you Need a Pantry?
What is a Perfect Pantry like?
Food Storage Equipment and Tips
Before and During the Power Outages
72-Hour Emergency Food Kit
Food to Stock for 2-3 Months
Food to Store for a Year
Packaging of Dry Products
Methods of Preservation
Water Storage and Treatment
Much more…
With this all-in-one survival food acquiring handbook, you will have a variety of ideas in one place to cook food during any emergency, immediate, short-term or long-term, with complete ease.
Don't leave your survival up to chance!