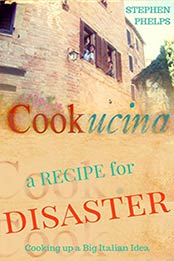 Title:A Recipe for Disaster: Cooking Up a Big Italian Idea
Autor: Stephen Phelps
Pages: 289
Publisher (Publication Date): Drayton Park Publishing (June 24, 2017)
Language: English
ISBN-10:
ASIN: B072KHH77T
Download File Format: EPUB
A Recipe for Disaster is a cookbook, a travelogue and the companion to Cookucina, a six-part TV series available on Amazon Video, iTunes and Google Play – see www.cookucina.com . It's also the entertaining journey of an Englishman struggling with the ups and downs of living in rural Italy. After giving up a successful career in television, Stephen found himself dragged back into a world he had happily given up when his neighbour, Lia, persuaded him to listen to her Big Idea – making a TV cookery series. But Lia speaks no English. And Stephen's partner, Tam, can't cook. So, much against Stephen's better judgement, the three of them embarked on a six-part series set among the rolling hills of the little-known, but spectacularly beautiful, Italian region of Le Marche. In the Cookucina TV series Lia teaches Tam to cook alla Marchigiana, while Tam translates. A Recipe for Disaster follows their many encounters with the real Italy – a world away from the picture-book ideal of summer holidays in Tuscany. As the team try to construct a professional series with no funding they come to rely on the generosity of the Marchigiana people, while attempting to overcome the constant difficulties thrown up by those whose stubborn adherence to their age-old way of life is rooted in their beloved fields and woods. A Recipe for Disaster is a goldmine of simple yet delicious recipes, while peeling back the veneer of television professionalism and opening the door to a world of Italian surprise and delight. A Recipe for Disaster comes with unique access to Cookucina, the final six-part TV series, so you can see for yourself how the team cracked their problems and (just about) held it all together in a blistering heatwave. Experience this contradictory world of vendettas and kind hearts through the laughter and frustrations of Stephen and the team, as you follow A Recipe for Disaster slowly coming to its surprising fruition.