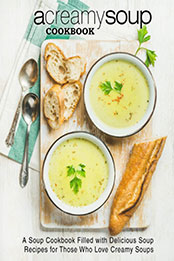 Title: A Creamy Soup Cookbook: A Soup Cookbook Filled with Delicious Soup Recipes for Those Who Love Creamy Soups
Author: BookSumo Press
Pages: 53
Publisher (Publication Date):CreateSpace Independent Publishing Platform (March 30, 2017)
Language: English
ISBN-10, ISBN-13 or ASIN: 1545034877
Download File Format:EPUB
For Creamy Soup Lovers Only.
Get your copy of the best and most unique Creamy Soup recipes from BookSumo Press!
Come take a journey with us into the delights of easy cooking. The point of this cookbook and all our cookbooks is to exemplify the effortless nature of cooking simply.
In this book we focus on Creamy Soups. A Creamy Soup Cookbook is a complete set of simple but very unique Creamy Soup recipes. You will find that even though the recipes are simple, the tastes are quite amazing.
So will you join us in an adventure of simple cooking?
Here is a Preview of the Creamy Soup Recipes You Will Learn:
Chicken and Celery Cream Soup
Swiss Cauliflower Soup
Cauliflower Cream Curry
Healing Spring Soup
Chicken Flavored Broccoli Soup
Chilled Summer Mango Soup
Italian Basil Tomato Soup
Fancy Vermouth Artichoke Soup
Bell Cheese Soup
Roasted Halloween Soup
Cheesy Turkey Soup
Cheesy Green Florets Soup
Spicy Loaded Elk Soup
Creamy Gorgonzola Soup
Dill Soup
Creamy Masala Quinoa Soup
Creamy Pumpkin Asiago Soup
Classic Creamy Potato Soup
Chunky Chicken and Lemon Soup
Worcestershire Cheddar Soup
Much, much more!
Again remember these recipes are unique so be ready to try some new things. Also remember that the style of cooking used in this cookbook is effortless. So even though the recipes will be unique and great tasting, creating them will take minimal effort!