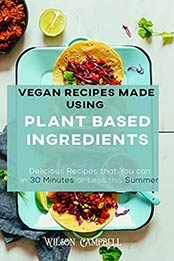 Title:VEGAN RECIPES MADE USING PLANT BASED INGREDIENTS: Delicious Recipes that you can make in 30 Minutes or Less this Summer
Author:Wilson Campbell
Pages:58
Publisher (Publication Date):April 25, 2021
Language: English
ISBN-10, ISBN-13 or ASIN:B093JJCHCM
Download File Format:EPUB
Preparing a vegan diet doesn't have to be time consuming.
This book show you how simple it's to make plant based comfort foods from home.
After reading this book, you will be able to make wholesome plant recipes using ingredients that are already in your fridge or pantry.
Even if the ingredients aren't in your kitchen, they will surely be available in your local grocery store.
In this book, VEGAN RECIPES MADE USING PLANT BASED INGREDIENTS, you will find
Perfect plant base recipes for:
• weeknights
• Speedy Breakfasts and Lunches
• Ready-to-go snacks
• Awesome Desserts
This book also contains a lot of simple tips and easy techniques that simplifies cooking.
Most of the recipes are freezer-friendly, one-pot, make ahead meal, stress free kitchen meals.
So in conclusion, whether you're looking for vegan plant based breakfasts, lunch, dinner or dessert, this book will help you covered with fuss-free, delicious meals on your table in no time.