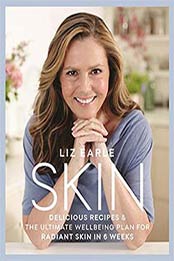 Skin: Delicious Recipes & the Ultimate Wellbeing Plan for Radiant Skin in 6 Weeks by Liz Earle
Print Length: 256 Pages
Publisher: Spring
Publication Date: October 24, 2017
Language: English
ASIN: B01D8ZZWKQ
ISBN-10: 1409164144
ISBN-13: 978-1409164142
File Format: EPUB
Nourish, polish and perfect your skin from the inside out following beauty guru Liz Earle's amazing 6-week programme.
Liz Earle is the authority on skincare and her brand new guide, SKIN, is the only book you will ever need to transform dull, lifeless skin, to skin that radiates youth and good health.
SKIN features a 6-week programme to nourish your skin from the inside out. Each week focuses on a different aspect of skincare, from detox and exfoliation, cleansing and healing, to nourishing, balance and, finally, radiance and maintenance. It encourages you to incorporate new practices into your skincare routine such as body brushing and meditation, as well as guiding you through a make-up detox, making your own scrubs and masks and problem-solving for specific skin conditions.
The programme is accompanied by 80 delicious and easy recipes to prove that what you put in your body is just as important for your skin as what you put on it. With breakfasts, lunches, easy suppers, snacks and desserts such as Banana and Nut Butter Pancakes, Salmon, Fennel and Quinoa, Rich Chocolate Pots and clever Beauty Bombs for an instant beauty hit, these recipes will help you on your way to glowing skin during the programme and beyond. All recipes are easy to make, don't need expensive or specialist ingredients and can be eaten all year round for glowing, radiant skin.