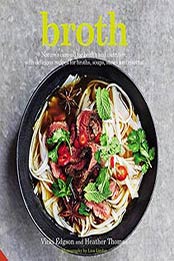 Broth: Nature's cure-all for health and nutrition, with delicious recipes for broths, soups, stews and risottos by Vicki Edgson
Print Length: 176 Pages
Publisher: Jacqui Small
Publication Date: December 15, 2016
Language: English
ASIN: B01AWIB30K
ISBN-10: 1911127179
ISBN-13: 978-1911127178
File Format: EPUB
Nourishing, restorative and comforting, bone broth is the concentrated meaty elixir with a clear, bright, essential flavour. It's a pick-me-up with curative powers that you can drink on the hoof and is good to go. Combining the magic of prehistoric times with the scientifically proven nutritional benefits of our modern age, it transcends cultures, generations and centuries. Whether you call it broth, bouillon or brodo, it's good for your health, your gut, your immune system, your bones, joints and skin, and is a simple route to enjoying optimum health and wellbeing.
This innovative book explains why bone broth is so healthy and nutritious and how you can harness its essential goodness in your everyday diet. The delicious recipes can be used by people who are detoxing or following the Paleo Diet as well as the 5:2 Diet (especially on fasting days). All the broths, soups and stews featured are easy to prepare and do not require any specialist skills, making them accessible and user-friendly for even the most basic and inexperienced cook.
With over 100 recipes for soups, stews and casseroles, risottos and sauces, each with a health-giving broth at its core, this is an essential guide to harnessing the curative powers of broth and improving your digestive health.
Reviews
"Problem: Always Snacking. Solution: broth by Vicki Edgson and Heather Thomas. Forget about deprivation, this is the ultimate in healthy comfort food to sustain you throughout the day. No more picking. No more too-tight waistband." – Conde Nast Traveller
"Broth is filled with recipes for a wide array of dishes… We especially love how every recipe has an "or you can try this" section, offering invaluable information on how to customise the dish to your liking. If you're eager to jump on the bone broth bandwagon, or you've ever wondered about making your own stock, this book is a great guide." – Easy Food magazine