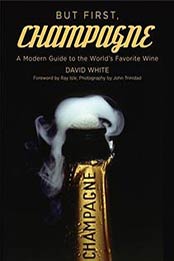 But First, Champagne: A Modern Guide to the World's Favorite Wine by David White
Print Length: 300 Pages
Publisher: Skyhorse Publishing
Publication Date: October 18, 2016
Language: English
ASIN: B01HDVCH8Q
ISBN-10: 1510711449
ISBN-13: 978-1510711440
File Format: AZW3
Both the region of Champagne and its wines have always been associated with prestige and luxury. Knowledgeable wine enthusiasts have long discussed top Champagnes with the same reverence they reserve for the finest wines of Bordeaux and Burgundy. But everyday Americans usually keep Champagne way back on the high shelf. It's for big celebrations, send-offs, and wedding toasts and, more often than not, is bought by the case. The good stuff costs plenty—and frankly, rarely seems worth the price.
Today, though, Champagne is in the midst of a renaissance—no longer to be unjustly neglected.
Over the past decade, an increasing number of wine enthusiasts have discovered the joys of grower Champagne—wines made by the farmers who grow the grapes. Thanks to a few key wine importers and America's newfound obsession with knowing where food comes from, these shipments have been climbing steadily.
In But First, Champagne, author David White details Champagne's history along with that of its wines, explains how and why the market is changing, and profiles the region's leading producers.
This book is essential reading for wine enthusiasts, adventurous drinkers, foodies, sommeliers, and drinks professionals. With a comprehensive yet accessible overview of the region, its history, and its leading producers, But First, Champagne will demystify Champagne for all.
From the foreword:
"Smart, entertaining, and valuable . . . one of those rare wine books that should appeal to people just getting into Champagne and longtime Champagne obsessives." —Ray Isle, Executive Wine Editor, Food & Wine
Reviews
"But First, Champagne is the book you didn't know you needed." —Fine Wine Concierge
"This is an instant classic, the definitive guide to the sparkling wine of a justly ballyhooed region . . . As with the wines themselves, White's most joyous accomplishment is in the finely etched details. —StarTribune
"A comprehensive, smartly written guide." —Food & Wine
"David White shares an enthusiasm for the world's classiest bubbly in his delightful new book . . . [he] has penned an indispensable guide to the French region and its wine." —The Washington Post
"Exploring the renaissance of grower Champagne . . . White dives into the Champagne region's storied history and demystifies the good stuff for wine geeks and newbies alike." —Chicago Tribune
"You'll be entertained by the lively history and sumptuous photographs." —The New Criterion
"[We] can confidently recommend this book as a good companion as you sip a bottle of bubbly." —Vino-Sphere
"Those that pick up But First, Champagne . . . will be richly rewarded . . . White never loses sight of what makes the region a truly unique place, perhaps the only place that could give birth to the world's most magical wine." —Tasting Panel
"Champagne is one of wine's most misunderstood topics, not helped by the preponderance of philosophically rusty books on the topic. Enter David White's sleek effort . . . it covers Champagne 101 deftly and in detail" —PUNCH
"A gratifying read. The book is not pretentious in any sort of way, rather simply admires the historical process that has brought about so many bubbles. At times, one forgets the book is about wine at all (in a good way), while the people, land, and tradition take center stage. But First, Champagne is great if you are looking for a new read or need something handy for reference. Either way, enjoy the rambunctious party that is the story of Champagne." —Grape Collective
"White's book brings a new perspective to a magical region that's witnessed more heartbreak—and lubricated more celebrations—than anywhere else in the world. Packed with beautiful photographs, But First, Champagne is essential reading for wine enthusiasts, adventurous drinkers, and foodies." —Miami Culinary Tours
"[White] has done a very, very good job of laying out the current state of Champagne in the context of the world wine marketplace. There's a lot to like in But First, Champagne, not the least of which is the fact that both newbies and jaded connoisseurs alike can find ample merit within its pages." —1 Wine Dude