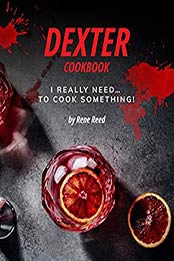 Title:Dexter Cookbook: I Really Need… To Cook Something!
Author:Rene Reed
Pages:69
Publisher (Publication Date):March 25, 2021
Language: English
ISBN-10, ISBN-13 or ASIN:B0914YL7XT
Download File Format:EPUB
Dexter is a show that follows the life of Dexter Morgan, he is a blood splatter analyst with a dark secret. When he is not working for the Miami Metro police department, he is busy killing people who he suspects are criminals.
The show is well made and keeps the audiences glued. Despite his calm appearance, Dexter is usually quite aggravated on the inside. He takes justice into his own hands to make sure that nobody escapes the law. But in doing so, he has to be careful since he works closely with the police.
One of the most recognizable elements of the show is the title sequence, where Dexter is seen preparing an elaborate breakfast. The sequence is an allegory to how he goes about dealing with his victims and wrapping them in cling film before disposing of them.
If you are interested in trying out the recipes showcased in the sequence and all the other food from the show, then you have come to the right place.
This book gives you 30 recipes taken from Dexter and will help you keep guests entertained for hours.
Let's go!