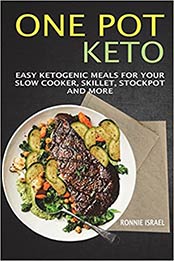 Title:One Pot Keto: Easy Ketogenic Meals For Your Slow Cooker, Skillet, Stockpot And More
Author:Ronnie Israel
Pages:184
Publisher (Publication Date):CreateSpace Independent Publishing Platform (July 11, 2018)
Language: English
ISBN-10, ISBN-13 or ASIN:1722995645
Download File Format:EPUB
Create Exciting Meals Everyday In One Pot If you've ever had a busy day, you'll agree that the last thing you want to do is to spend more time preparing and cooking a nourishing meal for you and your family. And if you are a health-conscious person on the keto diet, you know that eating out will push you out of ketosis in a jiffy. So what to do? Opt for no-fuss one- pot cooking! One-pot cooking is simplified cooking! It is a new approach to managing your time, energy and money while satisfying yourself and the people you love. One-pot keto cooking particularly helps you stay on track with your ketogenic diet and lifestyle. No longer will you need to figure out what to cook on busy week nights or days as there is a complete home-cooked meal for every day of the week. With this book, you can create delicious and healthy low carb, high fat meals, in no time, with minimal effort and of course less clean up! This is what this book offers and more! So make the most of your crockpot, skillet, roasting pans, pressure cooker and stockpots and start to stew, steam, saute, roast, simmer and braise away. You can't help but cook amazing meals, and still get enough time to spend with your family. A peek into the cookbook reveals: • A range of keto recipes that you can't help but cook again and again • complete nutritional information on every recipe • keto recipes on various categories such as stews, poultry, beef, pork, fish, seafood, soups, salads, desserts, and miscellaneous recipes This book is your keto guide book to help you… Spend less time preparing and more time doing what you love!