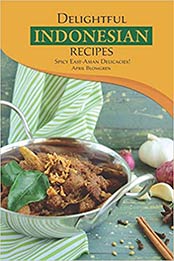 Title:Delightful Indonesian Recipes: Spicy East-Asian Delicacies!
Author:April Blomgren
Pages:97
Publisher (Publication Date):Independently published (September 16, 2018)
Language: English
ISBN-10, ISBN-13 or ASIN:1723749141
Download File Format:EPUB
Indonesian cuisine is based on rice, vegetables, fruits, and spices, and is therefore very diverse, spicy, and delicious.
Indonesia is an island nation in Southeast Asia in the area of the equator. It extends most of the land between Indochina and Australia, as well as the Indian and Pacific oceans. It covers about 18 thousand islands, of which about 6 thousand are inhabited. The largest islands are Sumatra, Java, Borneo, Bali and New Guinea.
Just as Indonesia is a country of thousand islands, so its cuisine offers thousand different tastes.
It has been formed under the influence of the culinary tradition of hundreds of different nations and ethnic groups that make up this multidimensional state, but also many countries with which it has been linked for centuries. That is why the Indonesian cuisine recognizes the influences of neighbors, as well as the countries with which it traded, such as China, India and East Asia.