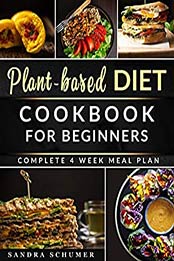 Title:Plant-Based Diet Cookbook for Beginners: Quick & Easy Recipes for a Healthy, Plant-Based Lifestyle | With Recipe Pictures, Meal Plan & Shopping Lists
Autor: Sandra Schumer
Pages: 149
Publisher (Publication Date): Sandra Schumer (May 11, 2020)
Language: English
ASIN: B088HCXQVP
Download File Format: EPUB
Eat Right for a better life – a cookbook full of exciting, quick and easy, plant-based whole food recipes.
This book offers 5-ingredient, easy to prepare and delicious recipes for healthy living.
Sandra Schumer, Amazon's best selling author carefully develops exciting and delicious recipes that will help you get back on track for health.
With real-world results of plant based eating, get yourself equipped to vanquish obesity, diabetes, heart disease and many other chronic illnesses .
With a goal oriented approach, this cookbook delivers high quality recipes from the best of farm fresh, healthy organic plant-based food ingredient choices that help navigate you toward living healthier and happier.
Specifically in this book, you'll learn…
About the Plant-Based Diet
8 Most Popular Plant-Based Diets
Benefits of a Plant-Based Diet
Vegan vs Vegetarian vs Plant-Based Diet
4 Week Meal Plan
Weekly Shopping Lists
Breakfast Recipes
Lunch Recipes
DInner Recipes
Images of all Recipes