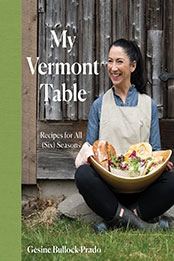 Title: My Vermont Table: Recipes for All (Six) Seasons
Author: Gesine Bullock-Prado
Pages: 288
Publisher (Publication Date): Countryman Press (March 14, 2023)
Language: English
ISBN-10, ISBN-13 or ASIN: 168268735X
Download File Format:EPUB
Vermont―arguably the OG farm-to-table state―is celebrated through 100+ recipes and stories from celebrated pastry chef Gesine Bullock-Prado.
When Gesine Bullock-Prado left her Hollywood life in 2004 and moved to Vermont, she fell in love with the Green Mountain State's flavors and six unique seasons. Spring, summer, fall, and winter all claim their place at this table, but a true Vermonter holds extra space for maple-forward mud season―that time of year before spring when thawing ice makes way for mucky roads―and stick season, a notable period of bare trees and gourds galore prior to winter.
In My Vermont Table, Bullock-Prado takes readers on a sweet and savory journey through each of these special seasons. Recipes like Blackberry Cornmeal Cake, Vermont Cheddar Soup, Shaved Asparagus Toasts, and Maple Pulled Pork Sliders utilize local produce, dairy, wine, and flour. And quintessential Vermont flavors are updated with ingredients and spices from Bullock-Prado's own backyard. With stunning photography, Vermonters and visitors alike will revel in a seat at this table.
100 full-color photographs