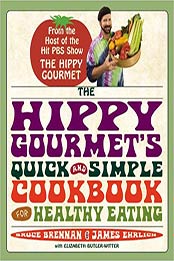 Title: The Hippy Gourmet's Quick and Simple Cookbook for Healthy Eating
Autor: Bruce Brennan, James Ehrlich
Pages: 288
Publisher (Publication Date): Grand Central Life & Style; 1st edition (September 4, 2007)
Language: English
ISBN-10:0446699845
Download File Format: EPUB
Cooking the Hippy Way: It's as Simple as Following Your Pleasure
Bruce Brennan, the host of the hit PBS show The Hippy Gourmet, travels the globe sampling local, healthy cuisines. The show is a global sensation, airing across the U.S. and in-flight international airlines such as Lufthansa and Swiss Air. Now in a cookbook packed with over 150 recipes, Bruce shows how you can make these easy, delicious dishes using freshly-grown ingredients, in your own home. His vegan, vegetarian, and pescatarian meals will transform your eating experience–and change the world for the better, one meal at a time. Don't miss:
AMAZING BREAKFASTS–Enjoy Blueberry Pecan Pancakes that will make you flip!
SIMPLE SOUPS–When it's too hot to turn on the stove, taste Cold Cucumber Soup and spend the rest of the day skinny dipping.
GLORIOUS BEANS–Try Brazilian-Style Black Beans that'll make you tango.
SOLAR PIZZA–Prepare everyone's favorite meal and if the mood strikes, bake it in your homemade solar oven. (It really works!)
SHARE THE LOVE DESSERTS–Make Mocha Mousse, a dark and powerful end to your meal that tastes as soft and light as a cloud.
…PLUS SALADS, SANDWICHES, SIDE DISHES, AND MORE!