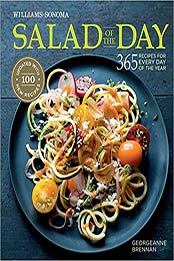 Title: Salad of the Day (Revised): 365 Recipes for Every Day of the Year
Autor: Georgeanne Brennan
Pages: 304
Publisher (Publication Date): Weldon Owen; Revised edition (July 5, 2016)
Language: English
ISBN-10: 1681880660
Download File Format: EPUB
Chopped, tossed, shredded, composed—salads are versatile in both form and flavor. They're an appealing and healthy way to showcase favorite seasonal produce. From light starters to protein-rich main course salads to palate–cleansing accompaniments, these much-loved adaptable dishes can play a delicious role in virtually every lunch or dinner, every day of the year. This is a revised and revamped edition of Williams-Sonoma Salad of the Day—the bestselling 2012 title, including new images and over 90 new recipes.
Williams-Sonoma Salad of the Day is a calendar-style cookbook that offers 365 enticing salads suited for any meal, occasion, or mood. Vibrant, fresh, and extremely versatile, salads are the ultimate expression of the changing seasons—and make a fantastic meal or side dish any day of the year.
New recipes include Warm Gigante Bean Salad with Herb-Roasted Red Onions & Wilted Greens; Crispy Kale & Brussels Sprouts Salad with Anchovies, Parmesan Crisps & Fried Egg; Grilled Calamari Salad with Padron Peppers & Green Harissa; Herb-Grilled Lamb & Grilled Green Onion Salad; Crispy Eggplant, Miso Butter & Charred Sungold Tomato Salad; Carrot and Medjool Date Salad with Creamy Gorgonzola Dressing; Nopales and Hominy Salad with Skewered Pork and Pepper Kebobs; Black Olive and Calamari Salad with Parsley and Mint Vinaigrette; Fresh Horseradish Salmon Cakes on Wilted Greens, and more.
Capture the essence of spring with a pasta salad featuring sugar snap peas and slender asparagus, or a seared salmon salad with pea shoots and watercress.
Savor the flavors of summer with juicy ripe tomatoes and sweet corn kernels tossed with piquant blue cheese, or grilled summer squash on a bed of herbed rice.
In autumn, enjoy a warm wild mushroom salad dressed in bacon vinaigrette, or tender chicken salad with crisp apples and toasted walnuts.
During the winter, pair bright citrus fruits with skirt steak and peppery arugula, or earthy roasted beets and soft farmer cheese.
Each recipe includes a complementary dressing recommendations or recipes, and helpful notes offer serving and substitution ideas. With this abundance of recipes as your guide, and the garden's yield as your inspiration, you're sure to find an appealing salad that fits the occasion, no matter what the day brings.