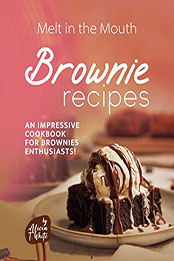 Title: Melt in the Mouth Brownie Recipes: An Impressive Cookbook for Brownies Enthusiasts
Author: Alicia T. White
Pages: 59
Publisher (Publication Date):November 11, 2022
Language: English
ISBN-10, ISBN-13 or ASIN: B0BM666VJG
Download File Format:EPUB
No feeling beats the feeling of you having delicious, chewy, chocolatey, and moist brownies melt off into your mouth as you take a bike.
No feeling comes close…
That feeling is a feeling that is best described as HEAVENLY!!!
Craving fresh, rich, chocolatey, and chewy brownie doesn't have to warrant you wandering from my cookbook to another, or from one store to another.
Right there in your kitchen, with the help of this recipe book, you can prepare delicious melty and tasty brownies in different ways than one!!
How to achieve that?? All you need to do is to add this cookbook to your cart and buy it!!!
In this brownies cookbook, you would find delicious recipes that would make a brownie guru out of you!!!
Some of the recipes included in this brownies cookbook are:
Frosted Brownies Cupcakes
Cream Cheese Brownie Perfection
Butterscotch Brownies
Peanut Butter and Chocolate Brownies
Buttery Brownies
and so much more!