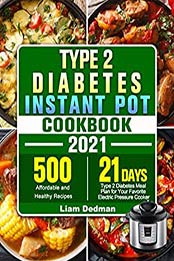 Title: The Ultimate Type 2 Diabetes Instant Pot Cookbook 2020: 500 Affordable, Easy and Healthy Recipes with 21-Day Type 2 Diabetes Meal Plan for Your Favorite Electric Pressure Cooker
Author: Liam Dedman
Pages: 401
Publisher (Publication Date): October 16, 2020
Language: English
ASIN: B08LB39PP4
Download File Format:EPUB
Have you been diagnosed with Type-2 Diabetes or on the way to it?
Do you want to reverse your Type-2 Diabetes or live with it comfortable?
Diabetes is not something anyone wants to encounter. If we have the misfortune to suffer from diabetes, we not only have to go to the hospital frequently, but also can't eat any foods we love, which is even more painful for us.
But don't worry, there is diabetic diet for you. In this book, we not only provide some delicious recipes for diabetics, but also introduce some knowledge about diabetes prevention and treatment.
By following this book, not only will you be able to manage your Type-2 diabetes better, but you might find that some of your symptoms diminish, your weight recover to normal, and even reverse your Type-2 Diabetes!
In this cookbook you will find:
Do you have Type-2 diabetes?
How can you prevent Type-2 diabetes?
Easy, healthy, and delicious food for Type-2 diabetes
Foods to avoid in Type-2 diabetes
Benefits of instant pot recipes for Type-2 diabetes
500 Affordable, Easy and Healthy Recipes
21-Day Type 2 Diabetes Meal Plan
Get a copy of this great Diabetes Instant Pot cookbook and enjoy your life once and for all.