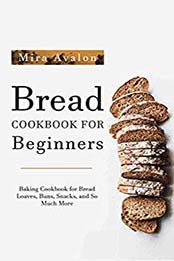 Title: Bread Cookbook for Beginners: Baking Cookbook for Bread Loaves, Buns, Snacks, and So Much More
Autor: Mira Avalon
Pages: 113
Publisher (Publication Date): December 17, 2018
Language: English
ISBN-10:
ASIN: B07LGCZL9T
Download File Format: AZW3
Enjoy all your favorite warm and delicious baked goods made easily in your own kitchen!
Delicious home baking does not require expensive equipment or years of baking expertise. With the goal of making the joys of baking convenient for everyone, life-long baker Mira Avalon brings her passion for fresh baked goods to your kitchen. The Bread Cookbook for Beginners is the first choice for anyone who wants to enjoy truly amazing baked goods at home, including all of their favorite sandwiches made with a fresh sliced loaf, burgers with soft and light buns, mouth-watering breadsticks that are crisp on the outside and chewy on the inside, indulgent pretzels, muffins, cakes, and snacks, all easily made at home right in your own kitchen with no special appliances or hard-to-find exotic ingredients.
The ultimate Bread Baker's Cookbook for making amazing baked goods at home, the Bread Cookbook for Beginners includes:
An Introduction to Home Baking that fully explains the principles of home baking and shows you exactly how to get expert results from your very first baked recipe
Baking Secrets with easy to follow instructions, tips, and tricks for baking amazing recipes at home
Dozens of Recipes that your family will rave about including loaves, breadsticks, buns, pretzels, muffins, cakes, and snacks
Nutritional Information for Every Recipe so you can easily track exactly what you are consuming
Usher in a new era of bread baking and let the smell of fresh baked bread fill your home with Mira Avalon's Bread Cookbook for Beginners, your go-to resource for making out of this world baked goods in your very own kitchen starting today!