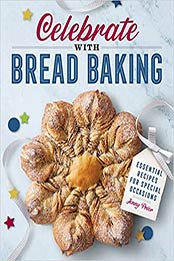 Title: Celebrate with Bread Baking: Essential Recipes for Special Occasions
Author: Jenny Prior
Pages: 186
Publisher (Publication Date): Rockridge Press (November 3, 2020)
Language: English
ISBN-13: 9781646116362
Download File Format:EPUB
Delightfully delicious breads from around the world to savor, share, and celebrate
There are dozens of holidays and special occasions across the world that are honored with bread―and creating your own beautifully baked, golden loaf is a wonderful way to honor your culture and community and share a tradition passed down through generations. This bread cookbook has everything you need to celebrate your favorite holidays and biggest milestones―and bring everyone together with a slice of homemade bread.
This bread cookbook will get you started with a quick review of the bread baking process, including handy terminology, how to work with starters, and more. Whether you're planning to celebrate Diwali with crispy East African Chapati Flatbread or enjoy your morning coffee with a Swedish Kanelbullar, this bread cookbook will make every celebration memorable and meaningful, featuring 75 mouthwatering breads for every season or reason and perfect for gatherings of any size.
This bread cookbook includes:
Bread passport―Explore a range of international cultures and holidays in this bread cookbook, including recipes hailing from Scandinavia, Korea, India, Morocco, Germany, and beyond.
All you knead―Become a bread baking pro with a walkthrough of the basics, including learning tools of the trade, must-have ingredients, and troubleshooting tips.
Year-round yum―Celebrate and savor special days with this bread cookbook with 70 recipes such as Kulich Easter Bread, Native American Frybread, and Korean Bao.
With this bread cookbook, you'll find a world of festive breads to bake, break, and celebrate every season and special occasion.