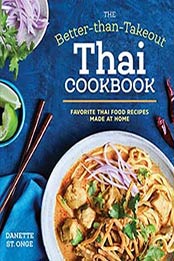 The Better Than Takeout Thai Cookbook: Favorite Thai Food Recipes Made at Home by Danette St. Onge
Print Length: 278 Pages
Publisher: Rockridge Press
Publication Date: August 1, 2017
Language: English
ISBN-10: 1623158613
ISBN-13: 978-1623158613
File Format: EPUB
A Thai Cookbook for Making Your Favorite Thai Dishes in the Time It Takes to Order Takeout
There are few cuisines that harness the balance of sweet, sour, salty, bitter, and spicy flavors better than Thai. Yet when it comes to enjoying Thai food at home, most think their only option is takeout. However, with only a few key ingredients and basic techniques, you can cook quick, delicious Thai meals that the whole family will love.
From the kitchen of her family's Thai restaurant to her mother's homemade Thai food, Danette St. Onge knows how to make Thai food accessible to anyone with the right ingredients, a little time, and a reliable Thai cookbook (hint: it's this one!). In The Better-Than-Takeout Thai Cookbook, Danette makes it simple to try new ingredients and learn essential techniques.
As you work your way through this Thai cookbook, you'll become more comfortable with the fundamentals of Thai cooking. The clear explanations and tried-and-true recipes offered in The Better-Than-Takeout Thai Cookbook make it easier than ever to create your favorite Thai dishes.
With The Better-Than-Takeout Thai Cookbook, you'll find:
More than 100 recipes that can be made in under an hour―most requiring just 30 minutes or less
Tons of tips for saving time with easy-to-find ingredients, plus recipes for making staples like curry pastes at home
Menus and instructions for how to prepare multiple dishes simultaneously―because no one orders just one dish for takeout
You'll enjoy the Thai dishes you love without the hassle of waiting for overpriced delivery with The Better-Than-Takeout Thai Cookbook.