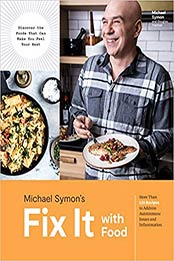 Title: Fix It with Food: More Than 125 Recipes to Address Autoimmune Issues and Inflammation: A Cookbook
Autor: Michael Symon, Douglas Trattner
Pages: 256
Publisher (Publication Date): Clarkson Potter; 1 edition (December 3, 2019)
Language: English
ISBN-10: 1984825534
Download File Format: EPUB
A guide to managing inflammation and pain with 125+ recipes proving that you don't need to sacrifice delicious food to eat healthfully and be pain free, from celebrity chef and The Chew co-host Michael Symon
"Michael fixed himself with irresistible recipes that just happened to be healthy. Now you can enjoy healing yourself as well."—Mehmet Oz, MD, attending surgeon, New York–Presbyterian/Columbia University
When Michael Symon found out he had rheumatoid arthritis and external lupus, he suspected that what he ate—or didn't eat—could make a profound difference in his levels of inflammation and how he felt. So he committed to a food "reset" on The Chew—no red meat, white flour, sugar, dairy, or alcohol.
Michael used social media to share his experiment with his fans, and was shocked by the outcome: after completing the reset, he felt amazing. He discovered that dairy, sugar, and processed flours are his food triggers, and that by avoiding them, his inflammation essentially vanished.
Michael came up with more than 125 recipes to satisfy his cravings without aggravating his body, including Ginger and Chile-Roast Chicken, dairy-free Mac and Cheese, Spaghetti Squash with Arugula Pesto, and Apple and Cherry Oat Crisp, among many others. Now, for the first time, he is sharing these recipes, as well as a guide on how to identify your food triggers and create a meal plan that works around whatever ingredient causes your discomfort so that you too can enjoy incredible food without sacrificing your health.