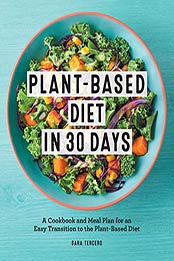 Title:Plant-Based Diet in 30 Days: A Cookbook and Meal Plan for an Easy Transition to the Plant Based Diet
Author:Sara Tercero
Pages:275
Publisher (Publication Date):Rockridge Press (May 4, 2021)
Language: English
ISBN-10, ISBN-13 or ASIN:B092RM344M
Download File Format:EPUB
Make it simple and delicious to enjoy all the health benefits of a plant-based diet
Transitioning to a plant-based lifestyle might seem challenging, but Plant-Based Diet in 30 Days gives you the information and support you need to succeed. Start things off right with a month of menus that make it easy for you to prepare plant-based meals every day, from breakfast to dessert.
Plant-Based Diet in 30 Days includes:
Plant-based primers—Learn about the benefits of plant-based eating, and get basic dietary advice, strategies for stocking your kitchen, and more.
A comprehensive plan—Keep things simple with a 30-day meal plan that offers delicious, easy choices for every meal, plus weekly shopping lists and prep tips.
Flavorful recipes—Make it a joy to move beyond meat and dairy with richly seasoned recipes featuring creative combos of familiar ingredients.
With this easy-to-follow plan you are only a month away from transitioning to a fully plant-based diet.