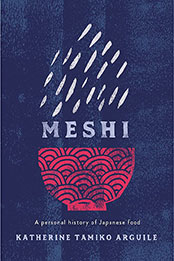 Title: Meshi: A personal history of Japanese food
Author: Katherine Tamiko Arguile
Pages: 416
Publisher (Publication Date): Affirm Press; 1st edition (12 April 2022)
Language: English
ISBN-10, ISBN-13 or ASIN: 192240070X
Download File Format:EPUB
For Katherine Tamiko Arguile, the Japanese food her mother cooked was a portal to a part of her that sometimes felt lost in the past. In Japan, food is never just food: it expresses a complex and fascinating history, and is tied to tradition and spirituality intrinsic to Japanese culture.
Exploring the meals of her childhood through Japan's twenty-four sekki (seasons), Katherine untangles the threads of meaning, memory and ritual woven through every glistening bowl of rice, every tender slice of sashimi and each steaming cup of green tea.
With rich, visceral prose, vivid insight and searing emotional honesty, Meshi('rice' or 'meal') reveals the culture and spirit of one of the world's most beloved cuisines.