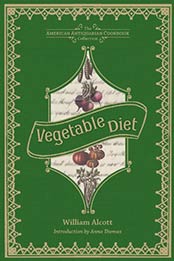 Title:Vegetable Diet: As Sanctioned by Medical Men, and by Experience in All Ages (American Antiquarian Cookbook Collection)
Author:William A. Alcott
Pages:304
Publisher (Publication Date):Andrews McMeel Publishing; Revised ed. edition (October 16, 2012)
Language: English
ISBN-10, ISBN-13 or ASIN:B009943RU8
Download File Format:EPUB
The dedicated lifestyle philosophy advocated in Alcott's Vegetable Diet might have been written by a contemporary vegetarian food critic. Alcott's complete disdain for meat and all animal products consumed as food would, in fact, be called a vegan diet. His book focuses on the superiority of a vegetable diet for supporting health and recovering from disease, and it contains dozens of letters testifying to that belief by various medical experts and many citizens who report in great detail the benefits of the vegetable diet for their health and lifestyle. In addition, the book includes a complete defense of the vegetable diet on anatomical, physiological, medical, political, economic, and moral grounds, with the final argument devoted to the immorality of men "plunging their hands in blood," as antithetical to the tenets of true Christianity. The book also contains chapters on the nature and preparation, through narrative recipes, of "farinaceous or mealy substances," fruits, roots, buds, shoots, leaves, and stalks, as well as "receipts" for most of the common garden vegetables of the day. More a defense of the vegan lifestyle than a cookbook, Alcott's passionate assertions that disease could be cured and health enhanced by the program was debated, debunked, and successfully disseminated widely throughout the northeastern region of the new country.
This facsimile edition of William Alcott's Vegetable Diet was reproduced by permission from the volume in the collection of the American Antiquarian Society, Worcester, Massachusetts. Founded in 1812 by Isaiah Thomas, a Revolutionary War patriot and successful printer and publisher, the Society is a research library documenting the life of Americans from the colonial era through 1876. The Society collects, preserves, and makes available as complete a record as possible of the printed materials from the early American experience. The cookbook collection includes approximately 1,100 volumes.?