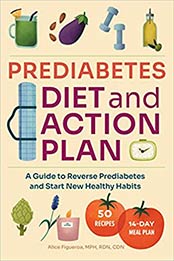 Title:Prediabetes Diet and Action Plan: A Guide to Reverse Prediabetes and Start New Healthy Habits
Author:Alice Figueroa MPH RDN CDN
Pages:176
Publisher (Publication Date):Rockridge Press (May 4, 2021)
Language: English
ISBN-10, ISBN-13 or ASIN:9781648765193
Download File Format:EPUB
Reclaim your health with a lifestyle guide and plant-based meal plan for managing prediabetes
The changes to your life that come with a prediabetes diagnosis can feel overwhelming, but this prediabetes diet plan makes those changes easier. You'll learn how to make reasonable adjustments to your diet and stay motivated to move your body, calm your mind, and manage prediabetes through mindful eating and plant-based nutrition.
An overview of prediabetes?This prediabetes diet plan includes information about how prediabetes develops, the risk factors, and how this book can help.
Comprehensive guidance?Build a healthier life with a prediabetes diet plan that covers exercise and mental health, along with 50 recipes and a detailed two-week meal plan.
Trackers and tools?Use the lists, meal plan, and goal charts to keep track of your nutrition, especially when grocery shopping or dining out.
Take control of your health in manageable steps with the ultimate prediabetes diet plan.