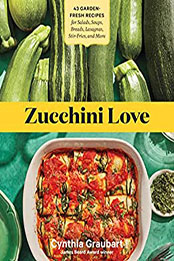 Title: Zucchini Love: 43 Garden-Fresh Recipes for Salads, Soups, Breads, Lasagnas, Stir-Fries, and More
Author: Cynthia Graubart
Pages: 102
Publisher (Publication Date):Storey Publishing, LLC (May 9, 2023)
Language: English
ISBN-10, ISBN-13 or ASIN: 1635866154
Download File Format:EPUB
Grate, slice, chop, spiralize, pickle, and transform a bumper crop of zukes into delicious dishes to share all season long. Sweet to savory, breakfast to dinner, Zucchini Love proves how versatile this summer favorite can be! Both an easy-to-grow beginner crop for the newbie gardener and a popular offering at supermarkets and farmers markets alike, zucchinis take center stage in this single-subject cookbook, adding a high nutrient, low carb, and delicious twist to every meal. James Beard Award-winning cookbook author Cynthia Graubart brings her passion for producing veggie-forward family meals to over 40 recipes. Home cooks will find fresh takes on the classics like Lemon Glazed Zucchini Bread and Garlic-Sesame Zoodle Bowls with Shrimp, plus creative ideas for tasty snacks like Zucchini Fritters with Tahini Dip, satisfying main courses like Chicken-Stuffed Zucchini Boats, and irresistible desserts like Zucchini Fudge Brownies. Mouthwatering full-color photos and step-by-step instructions accompany each recipe—plus there are tips for picking, freezing, and preserving—making the book easy to use and highly browsable.
This publication conforms to the EPUB Accessibility specification at WCAG 2.0 Level AA.