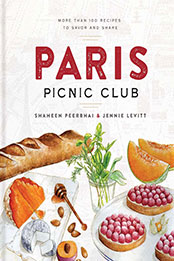 Title: Paris Picnic Club: More Than 100 Recipes to Savor and Share
Author: Shaheen Peerbhai
Pages:224
Publisher (Publication Date): Union Square & Co. (April 3, 2018)
Language: English
ISBN-10, ISBN-13 or ASIN: 145492036X
Download File Format:EPUB
"Charming . . . Home cooks will delight in the creative array of meals . . . The recipes here are fun, fresh, and perfect to share with friends." —Publishers Weekly
Delicious recipes from two chefs who cooked up a community as well as a meal.
Winner of the Pacific Book Award—Best Cookbook!
Every Friday for a year in a small town tucked into the hillsides south of Paris, Shaheen Peerbhai and Jennie Levitt made a delicious picnic-style meal for their friends, and it grew into a clandestine pop-up restaurant, serving much-anticipated lunches to eighty hungry guests. Soon they moved their picnic club to parks and hidden spots across Paris. In this charmingly illustrated book, Shaheen and Jennie offer a collection of their flavorful recipes, taking inspiration from the diverse cuisines of Paris. You'll delight in eclectic small plates and sharing platters, abundant tartines, creative drinks, indulgent desserts, and more—to savor and share in your favorite picnic spot or at your dinner table.