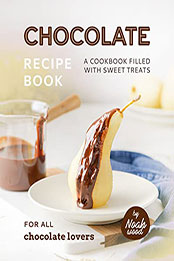 Title: Chocolate Recipe Book: A Cookbook Filled with Sweet Treats for All Chocolate Lovers
Author: Noah Wood
Pages: 74
Publisher (Publication Date):December 22, 2022
Language: English
ISBN-10, ISBN-13 or ASIN: B0BQYCG74R
Download File Format:EPUB
Welcome to the world of chocolate!
Almost everyone on this planet loves chocolate. All of us should be thankful for the tiny little cocoa bean responsible for rendering pleasure in so many ways!
Buying a bar of your favorite chocolate from a store is one thing, but spending time making your own desserts, sweets, or chocolate coated fruit is another.
Perhaps you have been looking for a recipe book like this one, in which case – we're glad you've found it! All the recipes in here are easy to follow. They make use of different types of chocolate and other special ingredients that are mostly obtainable from your local store.
Enjoy cooking with chocolate, and know that it's good for you… regardless of your age!
In this book, you'll find 30 chocolate recipes, which are ideal even for beginners. The collection ensures variety, which means that you will never get bored with making chocolate treats.
Whether you cap your meal with this dessert or enjoy it as an afternoon snack, you'll surely enjoy each bite, giving you the pleasure that only chocolate can give.