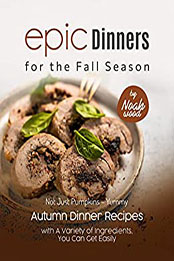 Title: Epic Dinners for the Fall Season: Not Just Pumpkins – Yummy Autumn Dinner Recipes with A Variety of Ingredients, You Can Get Easily
Author: Noah Wood
Pages: 145
Publisher (Publication Date):December 23, 2022
Language: English
ISBN-10, ISBN-13 or ASIN: B0BQZX7Z2W
Download File Format:EPUB
Fall or autumn is a great season. Many love the season for the changing color of the leaves. Trees, which were once green, explode this time of the year into different hues of red, orange, and gold. These colors look breathtaking at Bavaria in Germany, Portugal's Douro River Valley, New England in the US, and some other places.
The fall season also means elaborate costumes, tasty treats, and wonderful meals. It is a great time for sweets like taffies, caramel apples, and candies. This is also the best season for pumpkins. The traditional favorites include pumpkin bread and pumpkin pie.
Not just pumpkin foods, there is so much more you can enjoy during the fall season. In this book, I will introduce you to fall dinner recipes from around the world – from Sweden, Thailand, Jamaica, and West Africa, and of course, there are many traditional favorites as well. You will get detailed recipes for all of them. I will share recipes for turkey, chicken, pork, beef, fish, and even those for vegetarians and vegans. I will also show you how you make prepare these recipes at home easily.
Happy reading!