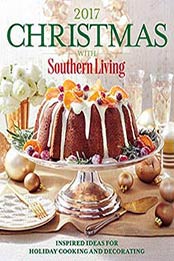 Christmas with Southern Living 2017: Inspired Ideas for Holiday Cooking and Decorating by Editors of Southern Living
Print Length: 192 Pages
Publisher: Oxmoor House
Publication Date: October 10, 2017
Language: English
ISBN-10: 0848752260
ISBN-13: 978-0848752262
File Format: EPUB
Nobody does Christmas like Southern Living, and for over 30 years, Christmas with Southern Living has been helping you create memorable holidays for family and friends. For 2017, Christmas with Southern Living is completely new, with all of the menu and décor ideas that you've come to expect, along with more than 100 recipes especially created for holiday cooking, baking, entertaining, and gift giving. This year's edition features five complete theme-based entertaining chapters – Christmas on the Farm, on the Block, at the Lake, in the Mountains, and by the Sea – including menus and decorating ideas for every corner of your home, as well as tips and tricks on surprising ways to use leftovers, serve dishes, and more!
With over 200 all-new full-color photographs to inspire you, as well as holiday decorations for inside and out, including tabletops, wreaths, trees, centerpieces and mantles, Christmas with Southern Living 2017 is your go-to resource for everything you need to make your holiday memorable and spectacular.